Da wird ein Horror-Film gedreht, genauer genommen ein Zombie-Film (das ist ein Film, in dem Menschen andere Menschen zerfleischen – Menschen, die vorher sogar mal Freunde waren).
Das Interessante an "Final Cut Of The Dead" ist nun, dass dieser Zombie-Film erstmal zum Real-Film wird – die filmende Crew frisst sich schließlich selber auf. Da läuft alles aus dem Ruder, keiner weiß mehr wo ist Spiel und wo hört das Spiel auf.
Man sieht als Zuschauer viel Blut, viel Gewalt, ist angewidert und will schon gehen oder abschalten. Doch dann ist der Film aber noch lange nicht bei der Hälfte seiner angezeigten Länge angelangt.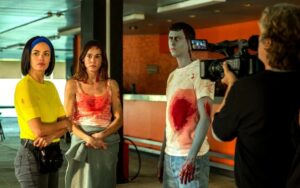 Wie geht er weiter?
Alles Film! Auch dass die Crew von realen Zombies angegriffen wird – auch das ist Film: Film im Film – im Film!
Und dann fügt sich alles zusammen, selbst die Gewalt entpuppt sich als Machart – manchmal sogar bis ins Lächerliche gesteigert.
Zwischendurch immer mal Äußerungen, dass unser Gesellschaftssystem – dieses Fressen und Gefressen werden – am besten mit einem Zombie-Film zu beschreiben ist.
Und dann passieren bei den Dreharbeiten einzelnen Darstellern ganz menschliche Missgeschicke – die wandelt der Film gleich mal zu Zombie-Eigenschaften um. Eigenschaften, die erschrecken und widerlich sind.
"Final Cut Of The Dead" war im letzten Jahr der Eröffnungsfilm des Internationalen Filmfestivals in Cannes. Auch so was ist nicht neu, denn im Jahre 2019 war schon mal ein Zombie-Film – "The Dead Don't Die" von Jim Jarmusch – Eröffnungsfilm in Cannes.
Das war aber kein Film-im-Film, sondern ein "echter", bei dem die Zombies mit dem was ihnen im früheren Leben wichtig war, als Halbtote wieder auftauchten: mit einer Gitarre, einer Kaffeekanne – nur eben dann für die noch Lebenden tödlich.
Im Februar kommt nun "Final Cut Of The Dead" in die deutschen Kinos.
Neben mancher Nachdenklichkeit und mancher Gewalt ist der Film auch Komödie und Unterhaltung.
Ob er gute Unterhaltung ist, müssen die Zuschauer entscheiden.
Ein Versuch im Kino würde sich lohnen.
Thomas Bohne CO
Final Cut Of The Dead (Originaltitel: Coupez!)
Produktionsland/-jahr: Frankreich 2022
Genre: Komödie, Horror
Regie: Michel Hazanavicius
Darsteller: Romain Duris, Bérénice Bejo, Finnegan Oldfield, Grégory Gadebois
Lauflänge: 110 min
Kinostart: 16.02.2023